Summer Associate
Langdon Lile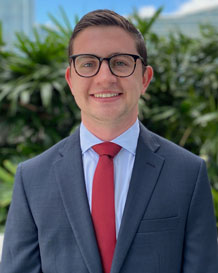 Langdon Lile served as the 2020 Summer Associate at Laird A. Lile, PLLC, where he assisted with research, drafting documents, and administration of estates and trusts.
Langdon has completed his second year of studies at the University of Miami School of Law, where he serves as President of the Honor Council. A participant in the Spellman-Hoeveler Chapter of the American Inns of Court and The Real Property, Probate & Trust Law Society, Langdon is also a Student Ambassador and a Dean's Merit Scholarship recipient. He earned a Bachelor of Arts in Government from the University of Virginia with a concentration in American Politics; Langdon also earned a Certificate with Distinction in Business Fundamentals from the McIntire School of Commerce at UVA.
Langdon continued his Summer Associate experience in July and August 2020 with Thompson Hine, the Cleveland, Ohio-based Am Law 200 firm with 400 attorneys in eight offices across four states and Washington, D.C. Langdon worked directly with the Personal Succession Planning group in the firm's Dayton, Ohio, office.
In 2019, Langdon served as a Judicial Intern for the Honorable Edwin A. Scales III in Florida's Third District Court of Appeal in Miami. He served as Staff Assistant to Florida Senate Majority Leader Kathleen Passidomo in Tallahassee from January to August 2018. Langdon served as a Congressional aide in the office of then-Congressman Curt Clawson in 2017.
Langdon volunteers at Camillus House, a Miami non-profit that provides humanitarian services to homeless and indigent people. An avid adventure traveler, Langdon has visited all seven continents and has summited Africa's Mt. Kilimanjaro and Mt. Rainier in Washington state.